Karin HOFERT FEIX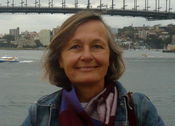 Karin Elke HOFERT FEIX
Architect
Associate Professor (Profesor Titular E.U.)
Department of Architectural Design
Barcelona School of Architecture ETSAB
Politechnic University of Catalunya UPC
karin.hofert@upc.edu
Karin HOFERT graduated in Architecture in the Barcelona School of Architecture ETSAB in 1986 and since 1987 teaches Architectural Design in this School.
Currently she teaches first and second year. She complements the regular course with elective monographic courses, and is member of a Master thesis jury.
From 2004 to 2009 she was co-director and teacher of a UPC postgraduate course on Interior Design. From 2008 until 2014 she has been Vice-Dean in charge of the International Relations at ETSAB.
She has been invited as visiting lecturer to several universities in Europe, South America and Asia, lecturing in four languages.
Besides regular teaching her main activity in ETSAB from 1995 onwards has been the organization and direction of a good number of international workshops and seminars, and of an international conference commissioned by the International Forum on Urbanism IFoU. She also has taught and has been jury member at the own and a large row of foreign workshops.
Her main study fields are: Relation between structural type and resultant space; basic space forms; building enclosure in relation to structural type. Due to her professional work and the postgraduate course she has a founded experience in interior architectural design. As extension she is also concerned with interior urban design.
Research in progress focuses on the streetscape of modern Barcelona, by analysing the facades of a series of residential buildings of the 50-60, both from a technical and formal viewpoint. Her professional activity in the last years has focused the refurbishment of private housing.
In former times she got awards in several design competitions, such as: third Prize / building commission of a square in Badalona; first prize for the town hall of Lugo (not built), second prize for the rehabilitation of Sant Pau al Camp Monastery in Barcelona.